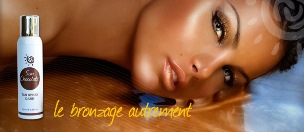 "The sun without sun, all year round!" with SUN CHOCOLATE: No. 1 of sunless tanning. SUN CHOCOLATE offers a natural alternative to harmful effects of sun exposure and UV. Made a quick and simple gesture, it allows a few seconds to get instant, intense and long-lasting tan on the face and body. No traces and odorless.
Face = 15 €
Upper body : Face – neck – arm = 25 €
Full legs = 25 €
Full body = 40 €
Supplement of 5 € if high intensity request.

It is recommended to do a body scrub before the session.